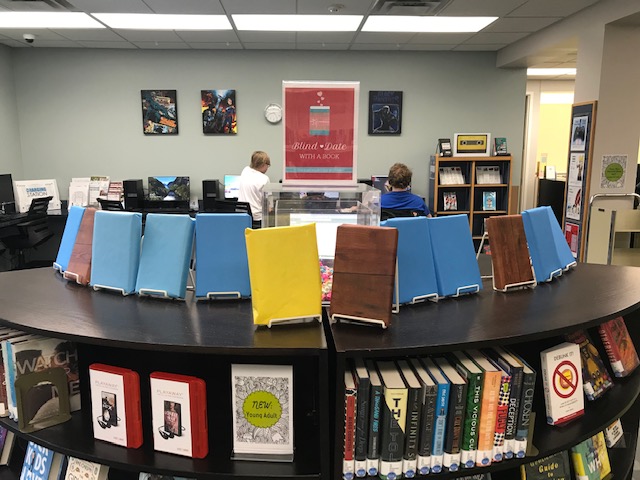 The Teen Zone houses the Young Adult collection of the Grafton-Midview Public Library. The Young Adult collection features fiction, nonfiction, comic strip collections, graphic novels, manga, audiobooks (Playaway and CD), magazines, book discussion sets, stem items, and board games. All materials are available for check-out.
---
Collection Highlights
Fiction:
               The Hunger Games
         The Grisha Trilogy
         The Book Thief
         John Green Books
Nonfiction:
Flowers in the Gutter: The True Story of the Edelweiss Pirates, Teenagers Who Resisted the Nazis
Where's My Stuff? 2nd Edition: The Ultimate Teen Organizing Guide
Hope in the Mail: Reflections on Writing and Life
Say Her Name
Graphic Novels, Manga, Comic Strip Collections:
         Garfield
         My Hero Academia
         One Punch Man
         Pumpkinheads
Audiobooks:
               The Fountains of Silence
         Lovely War
         Children of Blood and Bone
Magazines:
               Otaku
         J-14
        Game Informer
Board Games:
         Bob Ross Art of Chill
         Scythe
         Ticket to Ride
         Twister
Book Discussion Sets:
         The Hunger Games
         The Sun is Also a Star
Inter-Library Loan
If we do not have an item you are looking for, we may be able to borrow the item from another library.
Reader's Advisory
The teen librarian is here to help. Do you need something different to read? Are you looking for a book that is like one of your favorites? Or are you looking for books about certain topics or books with characters that you can relate to? Ask the teen librarian for suggested titles or to help you locate your next great read.
GMPL YA Staff Picks
Crystal:
         Ashfall Series – Mike Mullins
         The 100 Series – Kass Morgan
         The Light Years Series – Kass Morgan
         The Mortal Instruments Series – Cassandra Clare
         The Winter Horses – Phillip Kerr
Maureen:
              Everything, Everything – Nicola Yoon
Girl in the Blue Coat – Monica Hesse
The Boy in the Striped Pajamas – John Boyne
I'll Give You the Sun – Jandy Nelson
The Book Thief – Markus Zusak
John:
         Scythe – Neil Shusterman
Tami:
              13 Little Blue Envelopes – Maureen Johnson
              Harry Potter series – J.K. Rowling
Kim:
        Crank – Ellen Hopkins
Matched series – Ally Condie
Uglies series – Scott Westerfeld
Pam:
Queen of the Tearling – Erika Johansen
A Monster Calls – Patrick Ness
Shiver – Maggie Stiefvater
Great Hunt – Wendy Higgins
Lauren:
        The Book Thief – Markus Zusak
Children of Blood and Bone – Tomi Adeyemi
The Outsiders – S.E. Hinton